Young Grapes
Are you in grades 6-9? Then Young Grapes is just the thing for you.
Vi mødes hver ca. hver anden fredag klokken 18 – 21 i kælderen på Nyvej 7. Her spiser vi sammen, laver sjove aktiviteter, får nye venner og bruger tid på at lære mere om Gud sammen. Derudover spiser vi pizza sammen nogen søndage og tager vi på lejr sammen med andre teens fra Vineyard Danmark.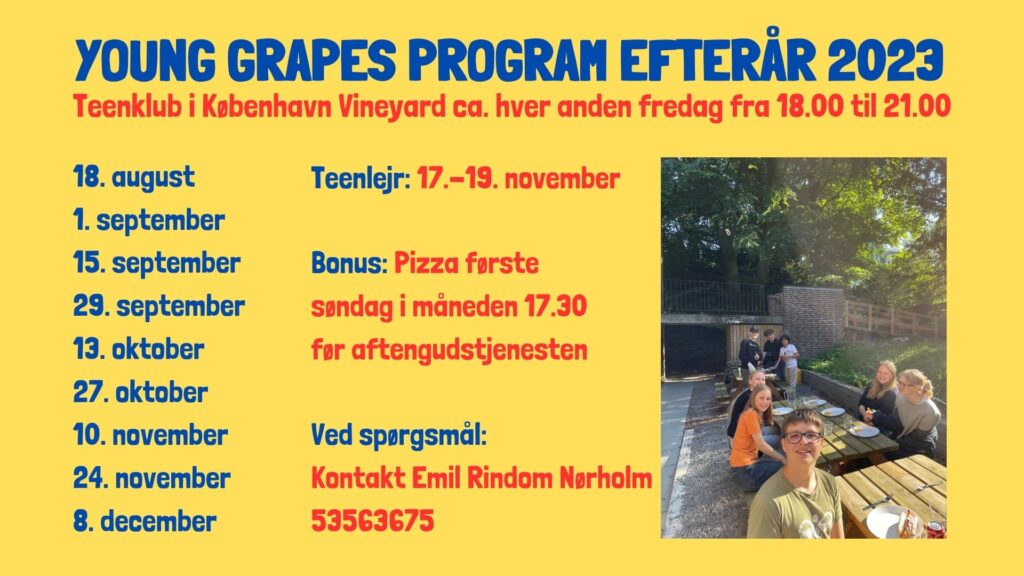 Sign Up Here!
Every time we meet, we start by eating together. That's why you need to register, so we can be sure that there is enough food. Sign up for dining by texting Emil on 53563675.
There is a fee of 30. kr which is pay to 30865. Remember to put "Young Grapes" in the description.
Would you like to know more??
Write to Emil Rindom Nørholm on emilrindom@vineyard.dk or 53563675 or Caleb Lind on 51939267.